MARCH MADNESS: MIDWEST STRENGTH & HOME MARKET POWER!
By Michael Steinberg | VP/TV Insights & Analytics | Katz Media Group
MIDWEST SLAM DUNK
The Midwest is the king of NCAA Basketball. March Madness averaged a strong 4.5 HH rating across the country in 2022. That equates to an average of over 5.5 million TV HHs. Even stronger are 115 markets where the local CBS affiliate exceeds the national average for the NCAA Tournament.

Here are the HH deliveries for the top 20 DMAs, where viewing from markets in the Midwest dominates.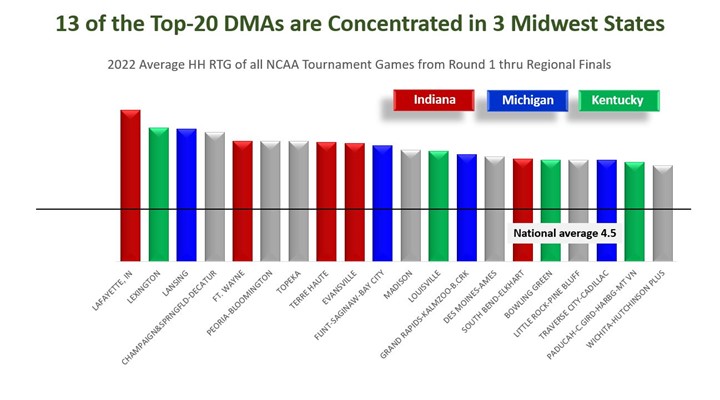 Among the top-20 markets, the NCAA Basketball Tournament performed the best in the Midwest with Indiana representing five markets. Michigan and Kentucky each had four markets in the top-20. Overall, these top 20 HH Rating deliveries were concentrated in only eight states.
TOURNAMENT HOMETOWN APPEAL!
Any major University NCAA Basketball team in the tournament creates large ratings for their hometown television station.

In the most recent NCAA basketball tournament on CBS, the average HH Rating for these local team games in their home market exceeded the average rating for all other games by huge margins. For example, Texas Tech in Lubbock, TX was featured in one game and outperformed the 20 non-Texas Tech games by 348%!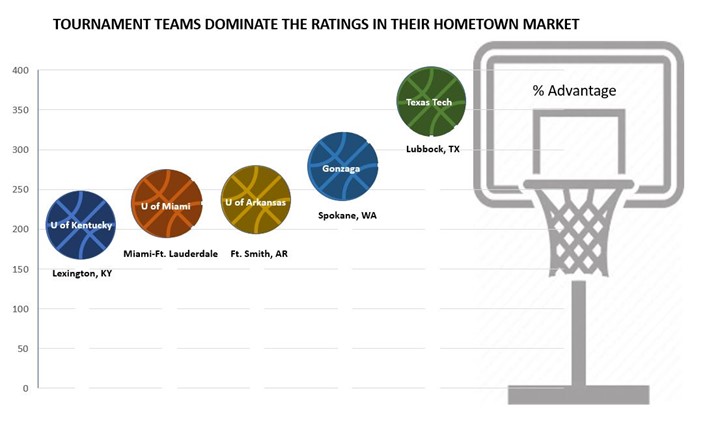 2022 HH RATING ADVANTAGE IN HOME MARKET
HOME TEAM COMPARED TO NON-HOME TEAM
| | | |
| --- | --- | --- |
| University | Market | % Adv |
| Texas Tech | LUBBOCK, TX | 348% |
| Gonzaga | SPOKANE | 276% |
| U. of Arkansas | FT. SMITH | 226% |
| U. of Miami | MIA-FT. LAUDERDALE | 222% |
| U. of Kentucky | LEXINGTON | 213% |
Local University basketball delivers strong ratings in their home markets.
The NCAA Tournament helps magnify those rating successes.
Target Local for Above Average Results.
Source: Nielsen March 2022, Live+SD Ratings/WRAP
Comparisons based on all games from NCAA Round 1 (March 18) thru Regional Finals (March 27) with games where a home market team appeared on the local CBS affiliate.