National LOCAL Football League
By Michael LaSardo | VP, Director TV Insights & Analytics | Katz Media Group
NFL Fans Have LOCAL Passion for Their Home Team
If you find yourself at a Patriots game at Gillette Stadium in Foxboro, Massachusetts, the passion that fans have for their home team would be unmistakable. Same deal if you visit Chicago for a Bears game at Soldier Field. And most certainly in Seattle at the Seahawks' Lumen Field. The fans in Seattle are affectionately dubbed the "12th Man" because their vocal support of their team can be such a game changer.
Katz Television Group assigned each of the 32 NFL teams to a "home" DMA that's measured using a Nielsen meter (Local People Meter or HH Set Meter). These 32 teams call 30 markets home. Two markets - New York & Los Angeles - each have 2 local teams.

This metered assignment of teams allows us to look at Nielsen Live+SD HH Impressions for all NFL games across the entire 2021-22 regular season. We focused our analysis on all games that were broadcast on ABC, CBS, FOX, and NBC affiliates, including games that were simulcast from Amazon Prime, The NFL Network, and ESPN.
Not surprisingly, all 32 teams saw an advantage in their local home market vs. all other non-local NFL games in the same market. Also, not surprising were the 4 teams with the smallest % increase: the Jets & Giants in New York and the Chargers & Rams in Los Angeles. A melting pot of fandom in these two largest markets is likely the biggest contributing factor.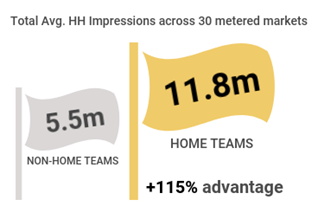 On average, we see regular season NFL games with a local team in a home market average a HH audience that's more than double that of games that don't feature a local team. So, for example, in the Kansas City DMA we averaged the HH audience of all 2021-22 Kansas City Chiefs games on broadcast and compared that to the season's remaining non-Chiefs games within the market.
We performed this same type of analysis on all 32 teams across the 30 markets. We found that the sum average of all 32 local team games delivered 11.8 million TV HHs while non-local team games delivered 5.5 million average TV HHs. A quick plug into the calculator translates into a +115% advantage for the local teams.
LET'S DRILL DOWN LOCALLY!
The Kansas City Chiefs took home the 2021 Vince Lombardi Trophy after winning Super Bowl LV. They also took home our award for "Local Love". HHs in Kansas City viewed Chiefs games at a rate of 4X that of non-Chiefs games.
Now let's take a 600+ mile trip north to Packerland, where we see HH viewership of the Green Bay Packers scoring more than 2.5X the HH audience of non-Packers games. Team after team we saw similar results in home market DMAs.
Here are the 5 teams that experienced the largest advantage when comparing the HH Impressions of local appeal to non-local appeal in each market: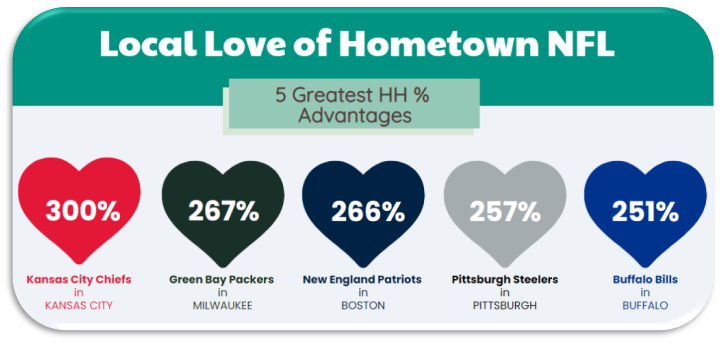 Clearly, this passion for local teams translates into higher viewership for local television stations. And while our analysis only highlighted home markets, keep in mind this local boost can expand beyond the invisible DMA lines of a home market and into nearby markets. In other words, you're certain to find a heavy concentration of Chiefs fans in nearby Topeka.
Check out how each team performed in our analysis down below. And reach out to Katz Television Group to see how we might be able to connect you with a local NFL team audience.