LOCALLY DRIVEN
By Michael LaSardo | VP, Director TV Insights & Analytics | Katz Media Group
Popularity Contest
As you know, cars and trucks come in a variety of colors: Royal Blue, Arctic Blue, Frost Blue, Fire Red, Candy Apple Red, Matador Red…You get the idea. Often, we see a variety of colors featured in local television advertisements. Have you ever wondered what the most popular car color is in the US?
Take a guess and then read on.
According to a study by automobile search engine iSeeCars.com, White cars are parked in the top spot for 2022, followed closely by Black. Look back at 2017 and you'll see those preferences reversed. Of course, not everything is always Black and White: Gray & Silver rounded out the top 4 in both years.
Here's an illustration of the % of share each of the 13 available colors took in the study in 2022 and in 2017.
Black & White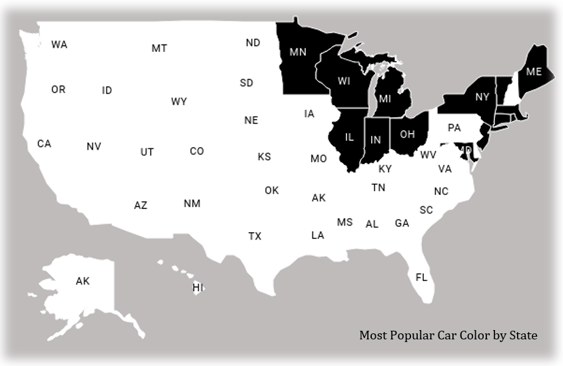 As partners of local advertisers and local media, Katz Media knows that local preferences will most certainly vary.
The preferred grayscale color (Black, White, Silver, or Gray) in each State varied between Black and White.
Thirty-six states have White as the preferred vehicle color, while Black is tops in 14 states.
Regionally, you can see that the preference for Black vehicles is concentrated in the Northeast & North Central regions of the US.
Adding a Little Color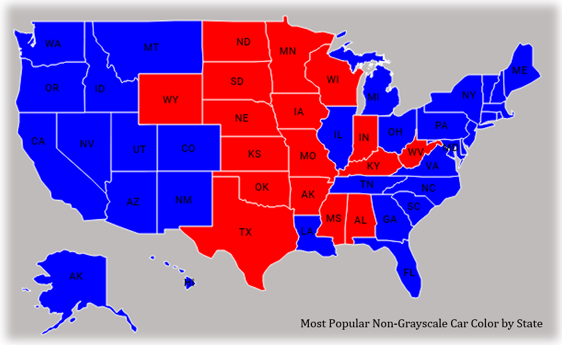 Looking beyond "shades of grayscale," the next preferred colors in each state varies between Blue and Red.
Nationally, Blue takes the top spot. Blue is most popular in 33 states, while Red is most popular in the remaining 17.
Interestingly, the preference for these 2 colors sees Red dominating the Central region with the East & West having a preference of Blue vehicles.
iSeeCars.com aggregated all the non-grayscale vehicles (non-black, white, gray, and silver) to determine the most colorful States and Metros.
Here's the Top 5 most colorful States, along with the % share of vehicles that are classified as colorful: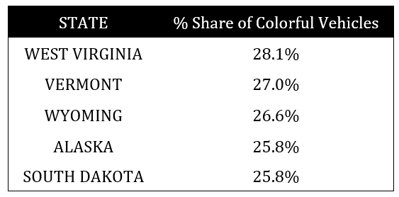 Nationally, colorful vehicles comprise 21.5% of all vehicles. But what about LOCAL markets?
Here's an illustration of the Top 10 most colorful metro areas.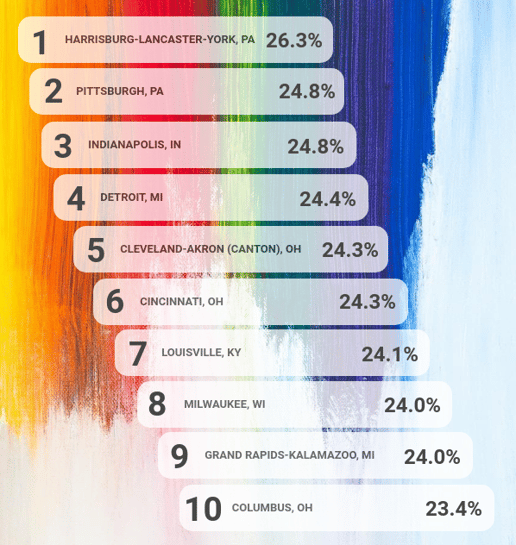 Let's Drive it Home
So, what does this all mean? At a high level, White is the most popular color of car in the United States. However, when we start driving this data to the local level, we see varying preferences emerge. We're reminded of something we know & expect: national preferences and trends do not necessarily reflect local preferences and trends. Some people like white cars, some people like black cars and apparently some people like yellow cars too!
National automobile advertisers realize the value of local and the local preferences that come along with it. That's why they advertise on Broadcast TV. In fact, a recent TVB study details why Broadcast TV is a powerful means of communication for auto advertisers.
Some of the key takeaways from the study as it relates to potential car buyers: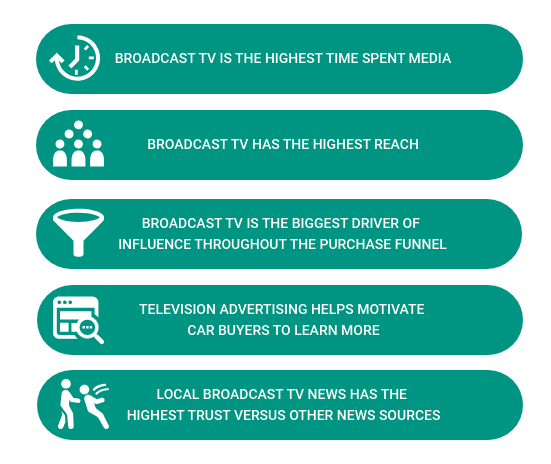 If you're a TVB member, you can check out the study here.
This insight is a reminder of how local preferences (car color) vary and how local broadcast television can help reach potential customers (car buyers).
Now think about your preferences in fast food, internet providers, sports betting operators, or political candidates. You have your favorites just like everyone else. This concept can be applied to all of these categories and more!
While we hope this little excursion adds some color to your day, we remind you that two things remain Black and White:
Broadcast TV allows national advertisers to reach local consumers.
Katz Television Group helps national advertisers reach local consumers.
If you're interested in reaching local consumers, whatever your industry, please reach out for more information.